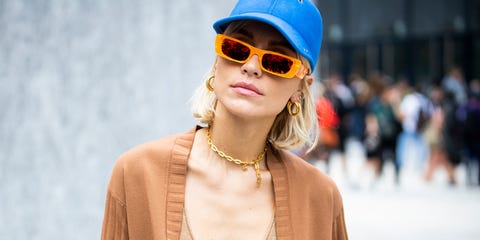 Claudio LaveniaGetty Images
The secret to an effortless off-duty look? A baseball cap. A wardrobe must-have, it's the lazy day solution when you can't be bothered to do your hair or makeup but still want to look put together. The simple accessory adds an instant cool factor to a look as simple as a sports bra and leggings. Recently, I've been partial to the Y2K inspired trucker hat, a trend that's been seen on Bella Hadid, Megan Thee Stallion, Hailey Bieber, and A$AP Rocky, to name a few. But trends come and go—and a classic baseball cap will never go out of style. Below, cute baseball caps for women that will perfect any off-duty look.
OG NY Trucker Hat
La Ropa
capsule.nyc
$70.00
Celebs can't get enough of La Ropa. The OG NY trucker hat has been seen on Bella Hadid, A$AP Rocky, Post Malone, and more. 
MLB Floral Baseball Hat
New Era
urbanoutfitters.com
$28.00
The classic baseball cap got a floral update. Pair this hat with your favorite breezy white dresses for a casual summer look. 
Where Dreams Come True Cap
Wish Me Luck
wishmeluckbrand.com
$2,021.00
The graphic jumps out at you on this vintage-inspired snapback. Pair this cap with your favorite leather jacket and some vintage denim for the perfect off-duty look. 
Tie-Dye Cap
This colorful cap will complete your beach look. Rock it with some jean shorts, a bikini top, and tons of summery jewels.  
ALD / New Era Yankees Hat
ALD / New Era
aimeleondore.com
$65.00
New Era collaborated with beloved New York based label Aimé Leon Dore for this cap.
Ying/Yang Trucker Hat
Awful Cloth
awfulcloth.com
$35.00
Balance out your look with this hand-drawn ying/yang trucker hat. 
Midnight Rodeo "Classic Trucker" Hat
Midnight Rodeo
fashionmovesforward.com
$55.00
Midnight Rodeo is inspired by the '70s and Western Americana elements. 
Baseball Strapback
Aritzia
aritzia.com
$20.00
You can't go wrong with a classic black cap. Whether you pair it with a blazer, leather jacket, leggings, sweats, or jeans, you'll look put together no matter what. 
Slant Dad Hat
The Hundreds
thehundreds.com
$34.00
Add some color to your look with this red dad hat. 
Logo-Patch Baseball Cap
Dsquared2
farfetch.com
$175.00
For any logo-mania lovers out there, this bold cap will instantly elevate any look.  
Good Time Hat
The Local Love Club
thelocalloveclub.com
$35.00
The Local Love Club is a new clothing line founded by wardrobe stylist to the stars, Maeve Reilly. With The Local Love Club, Reilly aims to promote positivity and "make kindness cool."
They're Here Trucker
Gifts of Fortune
giftsoffortune.com
$38.00
This out-of-this-world trucker is hand-crafted and embroidered in NYC. 
Worldwide Corduroy Cap, Desert
Honor The Gift
honorthegift.co
$52.00
Change things up and try this corduroy cap. 
Embroidered Retro Cap, Dark Green
Source Unknown
thesourceunknown.com
$38.00
Pair this retro-inspired hat with a white button-down, straight-leg jeans, and your favorite cardigan or blazer for a preppy-chic look. 
Madhappy Athletics Active Hat
Madhappy
madhappy.com
$45.00
Work out in style with this Madhappy athletics active hat.  
The Odeon Baseball Cap
The Odeon
theodeonrestaurant.com
$35.00
A year into the pandemic, we've all seen the rise of "zizmorecore." It's all about repping your favorite NYC establishments, and it doesn't get more New York than the Lower Manhattan staple The Odeon. 
Staple Baseball Hat
Talentless
talentless.co
$35.00
Keep things simple and sleek in the Talentless Staple Baseball Hat. 
Kith Serif Cap
Bad hair day? Still want to look cool? Look no further—this Kith cap has got you covered.  
Palm Springs Baseball Cap
Anthropologie
anthropologie.com
$38.00
Another summery option: This cute vintage inspired Palm Springs baseball cap. 
Sporty & Rich Wellness Ivy Hat
Sporty & Rich
endclothing.com
$65.00
Channel your inner Princess Di with this collegiate-style cap. Pair it with an oversized sweatshirt and some biker shorts. 
HP x Caterpillar Patch Hat
Heron Preston
heronpreston.com
$155.00
This trucker is part of Heron Preston's second collaboration with Caterpillar.
This content is created and maintained by a third party, and imported onto this page to help users provide their email addresses. You may be able to find more information about this and similar content at piano.io